The UEFA Euro 2020 Surprises Us This Way
After five years of waiting, the UEFA Euro Cup finally starts. This is the first time that UEFA got delayed in its history. Though held in 2021, the competition is still officially called Euro 2020 when it finally kicks off on June 11, 2021. In recent days, just like all the football fans, a group of our IWMH members sit on specially designed chairs in the same color as the lucky color of their supporting teams, clapping and yelling as the contest goes.
Through the UEFA history, ten teams won the championship. Germany and Spain are the most common winners, winning three times respectively. Italy, France, the Netherlands, Denmark, and Portugal , champions of other grand events, also participate in the this year's European Cup.

Countries above are the main focus of public attention. However,upon writing,Euro 2020's last 4 confirmed, Spain, Italy, Denmark, England ,and the game is now down to the semi-finals.Many audience say that there's so much unexpected results that got them either heartbroken or surprised. We feel the same way.



Portugal : failed to defend its championship
Five years ago, Cristiano Ronaldo led the Portuguese national team winning the first UFEA Euro championship. The picture of a moth kissing his tears became a classic being highly discussed until now. Today, CR7, who has scored five goals in four games at Euro 2020,has overtaken Michel Platini to become the top scorer in the history of the men's European Championship. Other younger players such as Bruno Fernandez and Diogo Jota also show their great potential.

Even with these star players, Portugal was't make it to the group of eight. And it's also the first time that Portugal failed to get into the the quarter-finals. CR7 tears over the defeat. He said in the interview after the game that Portugal will come back. But it's still waiting to see whether the younger generation in Portugal can shoulder their responsibility with talented skills ,and whether CR7 can remain resilient as before.

Group of Death, the literal meaning
Portugal (UEFA Euro 2016 and 2018–19 UEFA Nations League winners), France (UEFA Euro 2016 runners-up and 2018 FIFA World Cup winners) and Germany (2014 FIFA World Cup and 2017 FIFA Confederations Cup winners) make up a daunting Group F. This allocation got many audience waiting before the screen all day night just to know the results of the fierce competition. But the result may turn out to be really frustrating. None of four teams, which attracted the highest attention, managed to get to the finals, a reality that many football fans didn't acticipate.

England: broke long-existed curse
England beat Germany 2-0 at London's Wembly Stadium. It was England's first win over a German team in a knockout match since 1966 World Cup final. Many were worried about England given its previous performance against Germany. But this time, the team prove itself with the success.

The Golden Generation
Before the game stars, Italy and Spain were not so outstanding as members of the Group of Death. But these experienced players know the truth that " an army burning with righteous indignation is bound to win." And both two teams now ended up being the potential dark horses of Euro 2020. It is expected that at least one of them might get chance to compete for the championship.

Special Euro 2020
Looking back at football events such as previous World Cups and Euro Cups, it's easy to distinguish them by year and the name of host country. For example: the 2016 European Cup in France. But things are different this year.

Generally there is only one host of the Euro Cup. There was time when two countries hosted it together, but only for twice. However this time, as many as 11 cities in 10 countries work together to make sure that the competition can be held smoothly. A total of 11 pitches are put into use, including some famous one, such as the Wembley Stadium, one of the landmarks in London ; the Allianz Arena in Munich and the Olympic Stadium, where the song Un'estate Italiana turns into legend in 1990.

It is more than a game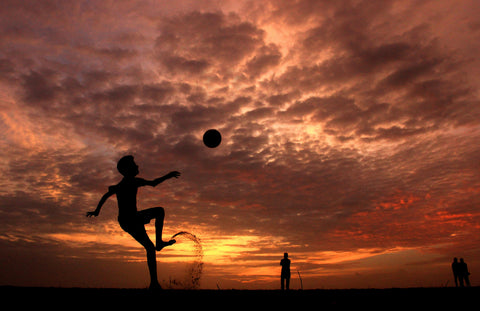 The history of football can be traced back to thousands of years ago. Through such a long time, this sports was developed and improved, and finally takes shape in the modern society. The passion about football from fans has never waned, but grew stronger.

People who can't understand the meaning and pleasure of football may wonder why a group of people kicking a ball can have so much fun, and even has the power of affecting the emotion of the audience. Honestly, the writer used to have this same question.

The answer is: it is more than a game.
We are taught to see the essence through the appearance. "It's more than a game. Football teach me many things that I have never imagined. It shows me the importance of many qualities, like perseverance, teamwork, leadership. What I learn from this sport are more than moves and skills. I understand, sometimes we need to accept failure but never stop trying." a passionate IWMH football fan said.

Love has no reason and can only be experienced by ourselves. IWMH has the same feeling about this sentence. This time, we prepare our specially designed chairs to show our respect to the game and all the devoted fans. With added seat cushion,lumbar and headrest pillows for all-round protection, adjustable backrest and armrest, IWMH chair becomes the best option for sitting on when you watch the live or play FIFA before your computer screen. Happy Euro 2020. Cheer to all the players and all of you!

Write and tell us your idea of the Euro 2020, your feelings about football, or your ideas about IWMH chairs. We are looking forward to hearing from you.
---